We facilitate safe learning spaces
NyE Communities Coalition originated in December 2000, when the Nye County School District (NCSD) contracted with Community Intervention, Inc. to provide training on the process of Community Intervention. The 21st Century Community Learning Center SAFE Schools and the NCSD Safe & Drug-Free Schools grants supported the group, originally known as the Pahrump Awareness League.
– Our Policies
Review our full policies here: NyECC Policies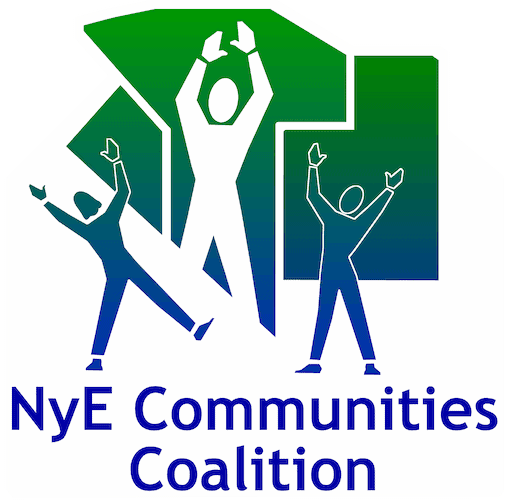 In July 2002, NyE Communities Coalition was funded and accredited by the Nevada Bureau of Alcohol and Drug Abuse as one of 11 statewide prevention coalitions. NyE Communities Coalition has evolved from a group of concerned citizens in Pahrump to a non-profit coalition of concerned and energetic individuals representing a combined, cooperative Nye and Esmeralda Counties. NyE Communities Coalition currently consists of numerous members & partner agencies, representing a wide variety of sectors and engaging youth and adults across the two counties. The efforts of the coalition membership have resulted in science-based prevention programming in communities that had not previously had any concerted prevention efforts. NyECC has increased professionalism, knowledge and skills in the prevention organizations and created comprehensive preventative efforts across Nye and Esmeralda Counties.
Activities of the coalition have included:
Currently, NyE Communities Coalition provides over $200,000 in funding for prevention efforts to partner agencies serving Nye and Esmeralda Counties. This funding and other coalition effort has resulted in many achievements including the following:
Of all of the successes in the last couple of years, the one with the strongest potential for future benefits to the communities has been the development and nurturing of relationships among individuals throughout the two counties.